The countdown for Valentine's Day is on! Colts Chocolates has the most delicious way to help you show some affection with our "sweet heart" to your sweet heart this year.
Nothing scores brownie points like "With All My Heart" chocolate covered heart-shaped fudge brownies. Individually wrapped and perfectly packaged, these hearts only get better by the dozen!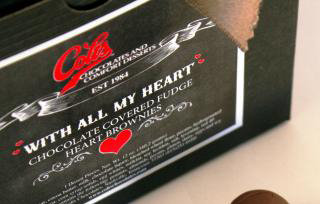 Enter the code: HEART1010% OFF your online purchase of these little beauties!
Can't make it to the store? Order online!
COME STOP IN!
You'll find us in the Gulch!
609 Overton Street
Nashville, TN 37203
Monday-Thursday 9 am – 4:30 pm
Saturday 11 am – 5 pm
615-251-0100
information@coltschocolates.com